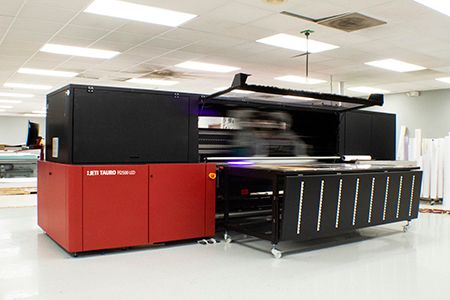 Many of our customers ask: What does LARGEPRINTING.com do in regard to sustainability? Do we have any "Green" initiatives?
We have been involved in eco-friendly programs for many years. Our main shift towards sustainability begins with the equipment that we purchase and the OEM inks that they use. UV cured and Latex inks are far safer for the environment than solvent inks used in solvent printers. 
The Anuvia ink sets used in our AGFA Jeti Tauro obtained multiple certifications and comply with a an extensive list of European Union and US environmental standards. Examples include:
the use of chemicals and their related emissions
air quality in indoor applications
safety for toys regarding heavy metals migration
restrictions for hazardous substances in electrical and electronic equipment
HP Latex prints are recyclable, returnable, non-hazardous and safe for disposal. Most HP large format paper-based printing materials can be recycled through commonly available recycling programs or according to region-specific practices.  All of the ink sets we use are Greenguard Gold certified. 
We nest print jobs where possible to maximize the use of substrates in order to reduce waste and minimize cost to our clients. We also recycle substrates when possible.
We often make recommendations for eco-friendly substrate choices for our clients. Being green is expensive, but many of our clients prefer these options.
There are more and more products each year that are greener choices than were available in the past. The availability of green products and the increase in consumer conscience has created a higher demand to use eco friendly products. Even though this demand drives the prices higher, our clients are using them more often.   
In addition to our focus on eco-friendly inks and substrates, the equipment that we purchase are industry leaders in sustainable technology.
https://digitalprinting.hp.com/content/dam/sites/possibility-city/latex-800-w-printer/bucket-pages/sustainability/Sustainability%20Infographics.pdf
https://www.agfa.com/printing/products/anuvia-uv-led-curable-inks/