Equipment
We utilize the most current technology in our industry. Our Print Lab includes a production floor of over 27,000 square feet of open workspace and an additional 5,000 square feet for front office and customer support. Currently, the shop floor includes an array of 8 large format printers from latex to UV Flatbeds and an arsenal of digital cutting and finishing equipment.
Modix Big-60 Large 3D Printer
Modix Version 3 represents a major leap forward with regards to the printer reliability, print quality, ease of assembly and readiness to future advanced updates. 
Advanced large print technology - build large impressive models & display components
Faster prototypes - add speed to product development
For more information or to get a quote today - Contact Us
Formulabs Form 3L Large Format 3D Printer
Big Parts, Big Throughput 
Large build volume - 13.2 × 7.9 × 11.8 in
Fast and versatile - supports large scale fabrication
Larger than life prints for larger-than-life ideas - print human scale models like a prototype of a helmet that's ready to try on
Two precision Light Processing Units achieve consistent accuracy and detail across the entire build platform
Provides smooth surface finish and fine detail
---
Belovac 48" x 96" Large Format Vacuum Former
We use thermoforming inks and materials to create custom packaging and display solutions. Our Beloved 48" x 96" vacuum forming machine works with any mold, whether it's one that we created using our 3D printers, laser cutters or something provided by our customers. We also print on plastic using our thermoforming inks to add a pop and personalization to any package or display.
---
Kern Optiflex Laser Cutter
The OptiFlex is Kern's flagship high-performance laser system. The HyperDual motion package installed on the OptiFlex is setting the standard for large format laser cutting and engraving machines.
Quality - Speed - Precision
Applications include Acrylic, Aluminum, Anodized Aluminum, Brass, Copper, Foam, Glass, Leather, Mild Steer,  Soon, Plastic and Stainless Steel
The Kongsberg C Cutting Table
The Kongsberg C cutting table is the very first multifunction large format digital finisher for signage, display and packaging applications. The Kongsberg C is designed to keep up with the faster, wider printers of today and tomorrow. Exceeding the standards in versatility, precision and productivity, it has everything that Kongsberg tables are noted for, and more.
---
Jeti Tauro 2.5 Meter Hybrid 6-color + White UV inkjet Printer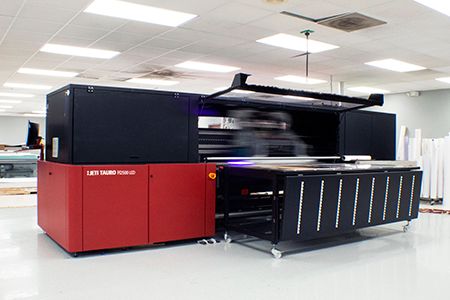 The Agfa Jeti Tauro is a 2.5 meter wide high-end hybrid six-color plus white UV inkjet printer. Featuring extremely vivid printing and speeds up to 275 m² per hour, it sets new print quality and productivity standards on all kinds of media.
A robust hybrid UV inkjet printer with integrated roll-to-roll system, the Jeti Tauro H2500 LED features continuous and automated feeding of rigid and flexible media. Its possibilities for high-end sign and display printing are endless – UV LED curing, prints of up to 2.54 m wide, print speeds up to 275 m2/hr., and countless applications.
---
Need more firepower?  Check out the rest of our arsenal:
Kongsberg C-64The 10x10 ft. Kongsberg C offers speed and acceleration with quick and precise tool movements, making high-quality short run production possible, even under the tightest deadlines. Designed to handle all types of substrates, the Kongsberg C allows us to double our production output.

HP3200 Latex Roll-to-Roll PrinterProviding efficient high volume production and increased capacity, the new HP Latex 3200 Printer is the next chapter in high quality printing. With incredible high image quality at lightning speeds, we can meet growing customer demands for shorter deadlines, better quality and longer runs.

HP360 Latex PrintersWith production speeds ideal for handling urgent jobs, the HP Latex 360 Printer produces indoor and outdoor prints on a variety of traditional signage substrates including textiles. High-quality, durable prints provide scratch resistance comparable to hard-solvent inks.

Arkane Laminator 1650The Kala Arkane 1650 is a high quality, high-speed hybrid laminator with upper high temperature heated roller.

Summa S2 T160 CutterPrecision-engineered to increase workflow efficiency when contour cutting printed graphics, signs, labels, vehicle wraps, decals and more. OPOS-CAM is for volume-driven environments that require ultra-fast yet meticulous automated cutting for short or long run jobs.

ESKO Kongsberg XP24 with Digital i-CutThe heavy-duty, high-speed and advanced ESKO Kongsberg XP24 brings a new standard in digital cutting tables. Its advanced engineering means it can handle even the most challenging materials with accuracy and precision.

Mimaki CG-130FX Cutting PlotterIdeal for producing decals, stickers, cut-vinyl signs and more, the Mimaki CG-FX Series of roll-based cutters feature high speed, continuous crop mark detection for precise contour cutting. A proprietary half cut function leaves a small bit of backing sheet at connecting points for easier handling. An over-cut function makes a cross cut at the start and end positions, resulting in sharp edges with no undercut fragments.

FujiFilm Acuity UV Flatbed PrinterThe ultimate platform for printing on rigid, flexible and even roll media, delivering near-photographic quality images across a diverse range of creative print applications. Acuity Advance Select printers feature the latest technology to deliver superb performance.